Desert Adventure Camp gives you the best camping experience in the mystic desert setting. We bring for you a real desert life experience at Sam Sand Dunes in Jaisalmer. In addition, the immaculate beauty of nature away from the hustle of the city will rejuvenate your soul. Therefore, Desert Adventure Camp is a destination to experience luxurious camping services in Jaisalmer Rajasthan.

We bring a blend of royal Rajasthani culture and hospitality for our guests staying in our luxurious Swiss tents. We offer top-notch services for our esteemed guests from all around the globe. The majestic Rajput culture and the charm of the desert will make you explore the true spirit of Indian culture. Further, we aim to take you close to the rich rural life of the natives of Jaisalmer. For instance, the village tour will make you connect with the natives and cherish our age-old traditions. Hence, the local communities living in the interiors of Jaisalmer will give you a true glimpse of  desert life.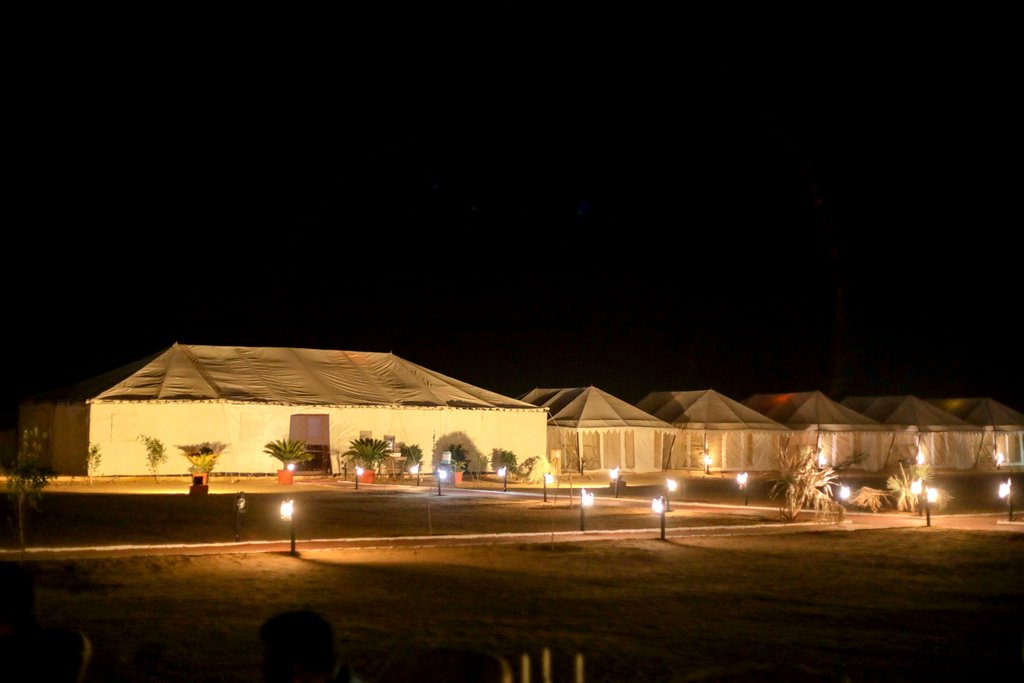 Desert Adventure Camp team believes in serving tourists with love and warmth. We provide AC and Air Cool Swiss Tent accommodation. Similarly, the interiors of the luxurious tents are embellished with the local handicrafts to make you experience the aesthetic beauty of Rajasthan. We hold expertise in providing customised camping experience keeping in mind your requirements. For instance, our team plans and design Corporate Events and Conferences, Destination Weddings, Desert Bar. Moreover, we also hold expertise in  arrange Dinner on Dunes, Candle Light Dinner etc. Therefore, we have a dedicated team to help you execute your plan successfully.
In addition to this, we bring to you different adventure activities to enjoy your stay in the deserts. We offer adventure activities like Camel/Camel Cart Desert Safari, Jeep Desert Safari, Night Jeep Safari with Bonfire. The guests at our camps can experience the thrill with Parasailing and Quad-Biking. In other words evenings at Desert Adventure Camps are soothing where our guests can enjoy some authentic Rajasthani cuisines with folk music and art forms performed by the folk artists. Hence, the starry nights in the desert will make your stay memorable.