Luxurious AC and Air-Cool Swiss Tent Accommodation.

Desert Adventure Camp in Sam Sand Dunes provides luxurious AC and Air-Cool Tents to our guests. The Swiss tents enable you to experience the real pleasures of the mystic desert area of Jaisalmer. It will be a lifetime experience to appreciate the beauty of nature while staying in our luxurious AC and Air cool swiss tents in Jaisalmer. Do you want to stay in a camp while on your trip with your friends?
We provide all the necessary facilities inside the private space of your swiss tents. The tents are equipped with comfortable bedding, clean washroom, charging points, AC and Air-cool facility to experience all kinds of luxuries inside your private swiss tent enclosures. Hence, living in the camps will be delight for you and your friends.
Desert Adventure Camp offers two accommodation categories for you to enjoy the Rajasthani heritage in Jaisalmer. Our guests can opt for either AC and Air-Cool luxury swiss tent accommodation in Sam Sand Dunes to experience the best desert experience away from the stressful city life. Therefore, we have polite staff members to attend to your requirements 24/7 during your stay in our resort. Moreover, the tents are spacious enough for our guests to enjoy their stay at our camp.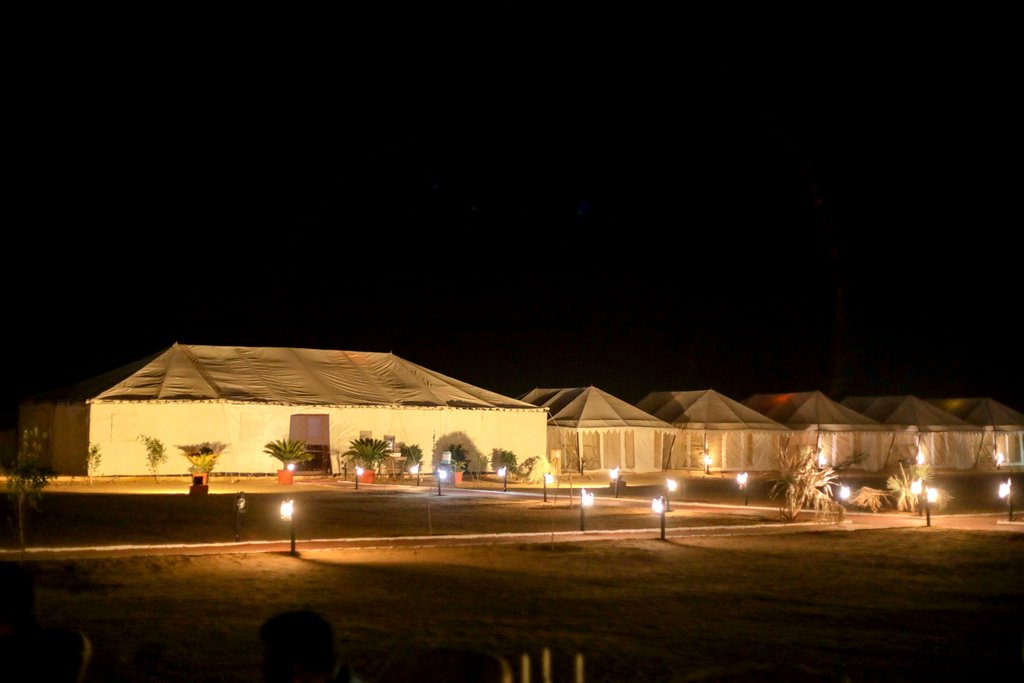 The Swiss tents are comfortable and decorated with Rajasthani handicrafts. The comfortable furniture enhances the beauty of the tents. We provide waterproof tents to survive all kinds of climatic conditions. The toilets and the washrooms inside the tent have 24/7 running water. Desert Adventure Camp gives a comfortable accommodation experience throughout your stay in our camp. Therefore, we provide the best services to our guests from all around the globe.
Book your luxurious Swiss tents with us online and witness the beauty of the Sam Sand Dunes in Jaisalmer.